Transmitters


Two models of transmitter are currently available. They are all based on the same design and characteristics but the higher powered systems have broadband amplifiers to boost their RF power output.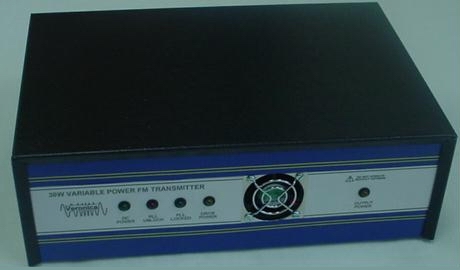 Click on Image for a larger view
The 30 Watt transmitter is a stand alone unit with amplifier included. These units are frequency agile across the band from 88 to 108 MHz. They are easily tuned and adjusted in the field using the display lights on the front panel.
---
Click on Image for a larger view
The 100 Watt transmitter is also a stand alone unit with amplifier included in the single transmitter box.
It employs at 28 Volt output transistor however input power remains 13.8 Volts. Utilization of internal circuits provides the required 28 Volts to the output transistor. It provides a full 100 Watt output when 13.8 Volts at 16 Amps is provided at the input.
---
We continue to try and develop optimum systems that are low on power input but deliver a good signal from the antenna. Our preference is to use gain antennas with our transmitters so that minimal input power is required for maximum coverage.
---
Please note that due to Canadian government transmitter testing and certification requirements, these transmitters are presently for export only.





Page created by D. Lemoine
Copyright © 2012. All rights reserved.
Information in this document is subject to change without notice.
Other products and companies referred to herein are trademarks or registered trademarks of their respective companies or mark holders.
Send mail to Webmaster with questions or comments about this web site.
Last modified: January 14, 2012