Wantok-SBS-1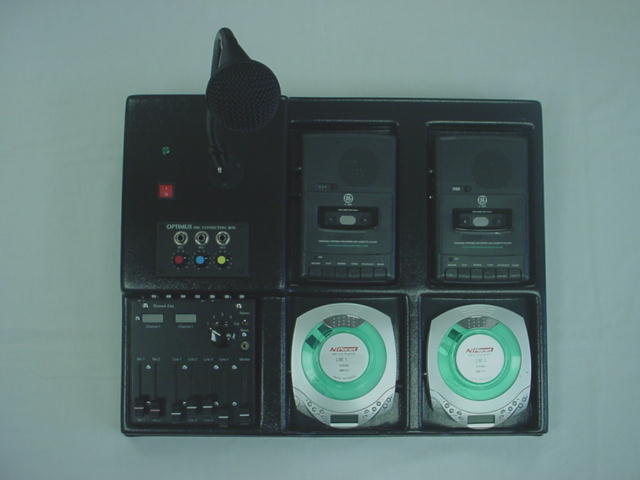 A complete FM Radio Broadcast station contained in a single suitcase.
All required components included, you need only supply power.
This sloped ABS composition console features two CD/MP3 players, two recording cassette decks, our six channel mixer, a console microphone and a microphone connector box for addition of three additional microphones. This console is especially useful for a station which uses a cassette recorder for recording lessons, interviews, news stories, etc. The cassette recordings can be edited to the second cassette unit, ready to broadcast.

Other features include the capability of switching external audio sources into the console via the auxiliary switching at the back of the console. A DC supply board supplies voltages of 5, 6, 9 and 12 Volts DC to internal and external electronic devices.
Key Benefits
This is a complete broadcast station in a single case. A high gain antenna comes in an accompanying 1
meter tube. The station is fully portable or may be used as a permanent FM community broadcast station.
The console portion of the system is ideal for community access to existing networks.
The console readily accepts any audio source for rebroadcasting including satellite, off-air or off-net programming.

Page created by D. Lemoine
Copyright © 2013. All rights reserved.
Information in this document is subject to change without notice.
Other products and companies referred to herein are trademarks or registered trademarks of their respective companies or mark holders.
Send mail to Webmaster with questions or comments about this web site.
Last modified: November 13, 2013